Our Medical Rescue Program:
Animal Ark Rescue is dedicated to helping lower the euthanasia rate in the Columbus, GA area. One way to accomplish this goal is to take in the sick and injured animals from Columbus, GA Animal Control. These animals are at high risk of euthanasia if they were to remain at Animal Control.  Our shelter makes sure these animals get the treatment and/or surgeries they need to stay alive. We are only able to save the sick and injured with help from our wonderful fosters and monetary donations.
Grace
Grace came to us from Animal Control with a severe case of demodex mange and a secondary skin infection. After numerous medicated baths and medicine, this sweet girl is now free from demodex. We see cases like this very often.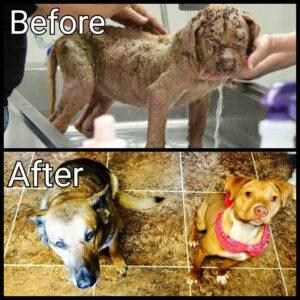 Hooch
Hooch was found as a stray in Columbus GA, and picked up by Animal Control who allowed him to come to us on an early medical release. His rear leg is severely injured with exposed bone showing. There's no telling how long this injury has been left untreated and the pain Hooch has been in. Hooch was also underweight, loaded with intestinal worms, and needed to have his heartworms treated.
Thanks to our fundraising campaign we were able to get Hooch the surgery and treatment he needed. A week after his surgery, Hooch found his forever home and moved out to the country with 100 acres to run and play on.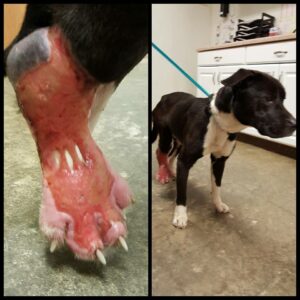 Rocky
Rocky came to us from Columbus Animal Control with a severely embedded collar. The collar had been around his neck for so long, he was nearly decapitated. Rocky now lives in Kentucky with a 2 legged little brother.