Have A Heart Thrift Shop
Our thrift shop is open Thursday, Friday, and Saturday from 11am-4pm. Lots of items to choose from! Furniture, knick knacks, household items, toys, books, and much, much more!  We are also accepting items for our thrift shop, items can be dropped off Mon-Sat 11am-5pm. All funds from the thrift shop go to our Have A Heart Program. Monies go to pay for heartworm treatments on dogs we take from Columbus Animal Care & Control.
Thrift Shop is located next to the shelter at 7133 Sacerdote Lane. If you have furniture you'd like to donate but do not have a way to haul the furniture, you can call 706-569-6040 or email donations@animalark.net to schedule a pick up time. We will try to accommodate your schedule and the volunteer's schedule to pick up within a reasonable amount of time.
We are currently not accepting clothing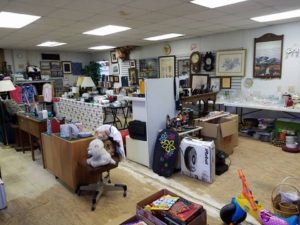 While the store is focusing on humans, we do welcome pet items, as well. Check out the below lists of what we're looking for!
Items we really need:
– Housewares
– Jewelry
– Kitchen Items
– Handbags
– Accessories
Items we'd love to have:
– Small Collectibles
– Rare Books
– Autographed Memorabilia
– Artwork
– Laptops
– Tablets
– Game Systems
– Guitars
– Glassware
We can also pick up large-volume donations by appointment! For questions or to make an appointment, email donations@animalark.net.