In case you didn't know, fosters are the life blood behind animal rescue! Without these behind the scenes heroes we wouldn't be able to save these precious lives!
Get ready for a heart-warming post!
1. Name? Sierra
2. Occupation? Artist
4. Family members (human and animals)? Husband, Giuseppe
5. Hobbies? Dog training, photography, and fitness are a few of my hobbies, but my job is basically a hobby that I can make money with.
Tell us about your experience as a foster:
1. When did you start fostering for AAR?
I just started fostering this September!
2. What inspired you to become a foster?
I had just signed up to start volunteering, as our rental has a $350 pet fee. However, as the hurricane Dorian refugee's started pouring in, I couldn't help but want to do more. I reached out to my landlord and asked if she would mind overlooking the fee if the animals we fostered stayed only for a week, or were small enough that they could stay in one designated area, and she agreed!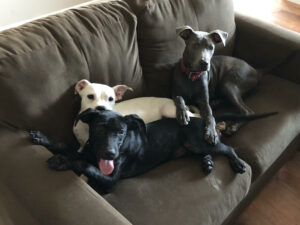 Sandy, Finnerly, and Tara found themselves in the path of hurricane Dorian. AFter being evacuated from the animal control facility in Brunswick, GA, they made their way to Animal Ark Rescue!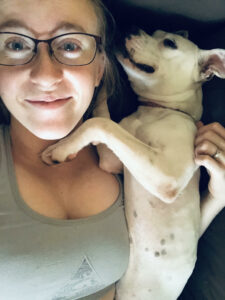 3. Do you primarily foster dogs, cats, or both?
We've had three puppies stay with us and we're open to doing kittens and puppies further down the road.
4. What is the best part of being a foster?
I truly think that the best part of fostering is being able to love on these animals who haven't had such a great experience with mankind thus far, and show them just how loved they can be.
5. Tell us about your current foster(s)!
We just said goodbye to our first three fosters, Sandy, Tara, and Finnerly! They were each around six months old and FULL of energy. Tara was the trouble maker/princess, Finnerly was the most energetic, independent, and eager to learn, and Sandy was the sweetest little cuddler .
6. Which foster animal touched your heart the most and why?
Oh gosh… Sandy probably touched my heart the most. She never wanted to leave my husband's or my side and she just wanted love all day every day. If we could've given it to her, we would've adopted her on the spot but she doesn't do well alone and she'd need to be able to spend a good amount of time alone with our work schedules. I know that she is going to find the most wonderful family in Michigan who will give her all of the cuddles she needs.
7. What advice would you give someone that is considering becoming a foster?
Honestly, I would say approach it with an open heart and an open mind. You never know who you're walking into your home, and you have to be flexible and able to role with the chewed shoes, accidents, and more!
8. Is there anything else you would like to add?
Fostering is such an incredible and unique opportunity, but it's not something to take lightly. You're signing up to prepare these animals for their future families. Learning their personalities, bad habits, and being able to resist giving in to the cuteness to help them form good habits can dramatically help them to find their families, and make sure that they stay their forever homes. By being patient with them, training them, and helping them to overcome their challenges (which can be just as hard for you btw), you are setting them up for the best possible chance that they have. It's one of the most rewarding jobs out there.
Thank you so much for helping to save these sweet babies, Sierra and Giuseppe! You are heroes! #fosteringsaveslives