Kitten Season- Part 1
Spring is just around the corner. The flowers are blooming, the birds are chirping, and Animal Ark Rescue is preparing for kitten season!
Every year from March to October Columbus Animal Care and Control is flooded with neonatal kittens who are fated for euthanasia if they cannot be placed in a shelter. At Animal Ark Rescue we rely on our network of dedicated fosters to house and care for orphaned babies and nursing moms until they're 8-weeks-old; big enough to return to the shelter and find their forever homes. Last year we were able to save nearly 700 neonatal kittens, and the more fosters we get, the more kittens we can save this year! If you're interested in fostering kittens, here's what you need to know: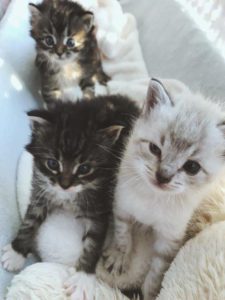 Do you have time for kitten care?
A newborn kitten requires bottle feeding every 2 hours. At 4-weeks-old they are weaned and only need to be offered fresh wet food at breakfast, lunch, and dinner. A nursing mother cat will provide all the care her babies need, and only requires constant access to food, water, and a clean litter box. Consider what age group would best fit your schedule, and Animal Ark will work to match you with an appropriate litter.
Do you have room for a foster kitten?
Kittens are pretty small, so they don't need much space. For the first three weeks of their lives they spend all day eating or sleeping, so they can be comfortably housed in a big open storage bin or a top-opening pet carrier with a fluffy blanket and heating pad. Kittens who are older than three weeks, or nursing mamas and their babies, don't need much room either. They can be kept in a large dog crate, pop-up playpen, bathroom, or spare bedroom. Really, anywhere that's separate from your pets, climate controlled, hazard free, and easy to sanitize between litters.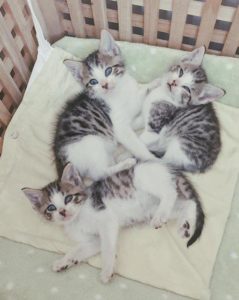 Can you provide the supplies a growing kitten needs?
Animal Ark covers all medical costs (as long as they have been cleared with our director beforehand), which includes vaccinations, deworming, spay/neuter, as well as any additional medicine, tests, treatments, or surgeries needed to get the animal healthy. However, all of the food, litter, and supplies are the responsibility of the foster parent. Here's a list of necessary items:
Kitten bottles
Kitten formula
Low-sided food and water dish
Kitten food-wet and dry
*Food scale (to weigh the kittens and monitor their growth)*Optional, kittens can be weighed at shelter if needed.
*Notebook (to log kitten growth)* Bring kittens to shelter for check up if they seem underweight.
Unscented baby wipes (to clean messy babies)
Lotion-free tissues or toilet paper (to stimulate infants to potty)
Low-sided litter boxes
Kitten-friendly litter (non toxic, non clumping)
Cat carrier
Soft blankets
Heating pad
Cleaning supplies
If you have the time, space, and supplies, then you're ready to learn how to take care of your first litter!
Are you up to the challenge? If so, stay tuned for our Part 2: Kitten Foster Care Basics blog!
-Written by Guest Blogger/Kitten Foster: Abigail Toon